Sean Browning is a writer/actor, sci-fi addict, 80's New Wave enthusiast, LGBTQ+ ally, amateur naturalist, and tree-loving Canadian. He grew up in the small village of Madoc, Ontario.
He has been writing and performing in Toronto since 1992 and has written for and/or performed in theatre, television, video games, music and comedy – the latter earning him two Canadian Comedy Award nominations ('02 and '05) for best sketch comedy troupe (for his duo Reid Along With Browning with comedy partner and pal, composer Matthew Reid.)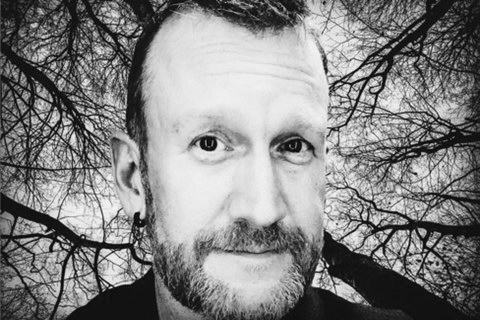 The universe is a very strange place. It will take even stranger heroes to save it. Potto is dim-witted, extremely forgetful and incredibly naïve. He wasn't always this way. Aye-Aye is devilishly shrewd and has boozed his way into a comfortable existence of incompetence and sleaze. How they ended up being two of the most wanted aliens in the galaxy is anyone's guess. Chased down by every oddball bounty hunter in the known universe, and befriended by a libidinous assassin, a fire-breathing reptilian, and a telepathic tree, their misadventures take them past Earth (the mall planet), to a floating sex circus, a planet of killer stuffed animals, an underground spaceship impound lot, and to a planet of reasonably priced bungalows. All while flying around in a ship powered by the brain waves of a psycho killer.  
A great prophecy proclaims that only "one of light, and one of dark" can save the universe from the dictatorship of The Node.  That can't be Potto and Aye…Potto doesn't know what the word prophecy means, and neither know how to spell it.
Part sci-fi epic, part absurd dark comedy, I Don't Seem So Bright in a Well-Lit Room is a comment on human behavior, depression, anxiety, and self-esteem. But way more fun than that sounds.
So, do up your space seatbelts…it's going to be a bumpy ride. Despite the lack of potholes in space.
Available now almost everywhere that books are sold!!
A few nice words about "I Don't Seem So Bright In a Well Lit Room"
"Absurd. Existential. Ridiculous. Tragic. Comic. The antiheroes of "I Don't Seem So Bright in a Well-Lit Room" are a kind of Rosencrantz and Guildenstern with space packs, inadvertently colliding with their destinies against a starry background of witty wordplay. With a vision as sprawling and limitless as the loveably goofy universe in which it's set, Browning's wit, wisdom and heart are always at play, combining to form a wonderfully panoramic and very silly heroes' journey that visits every trope of its overlapping genres and draws moustaches on all of them."
– Marcel St. Pierre, author of "Vengeful Hank" and "Cliché and Wind Go Hitchhiking".
A few nice words about "I Don't Seem So Bright In a Well Lit Room"
"This is a book of bloody daily revenge and intergenerational grudges, where tears flow as easily as blood. The most exhilarating elements of space opera and Ren and Stimpy cartoons mixed together in a violent smoothie. Definitely a book to bring to that family weekend when you just want to get away from your relatives and think about the best method to collect someone's ears for a bounty. Have I said too much? Was that too specific? Anyway, fun. Read it."
– Aurora Browne, actor/writer, "Baroness Von Sketch Show".
A few nice words about "I Don't Seem So Bright In a Well Lit Room"
"Browning's tale of science fiction, both poignant and absurd, has all the markings of a cult classic. And believe you me I know ALL about cults."
– Matthew Reid, composer and handsomer half of "Reid Along With Browning".